Kick Back with us on Thursday, November 30, from 5 – 8 PM at Selden Market as we gear up for the holidays!
Enjoy music from DJ Gabe Niles, specialty drinks by Stockpot, and shopping around the market. Free drink ticket for the first 25 attendees!
Thank you to our sponsors Selden Market and Tidewater Community College.
The Norfolk Kick Back is a monthly series providing unique opportunities and spontaneous collisions among emerging and established entrepreneurs, creatives, professionals and business leaders while highlighting the region's unique dining and entertainment.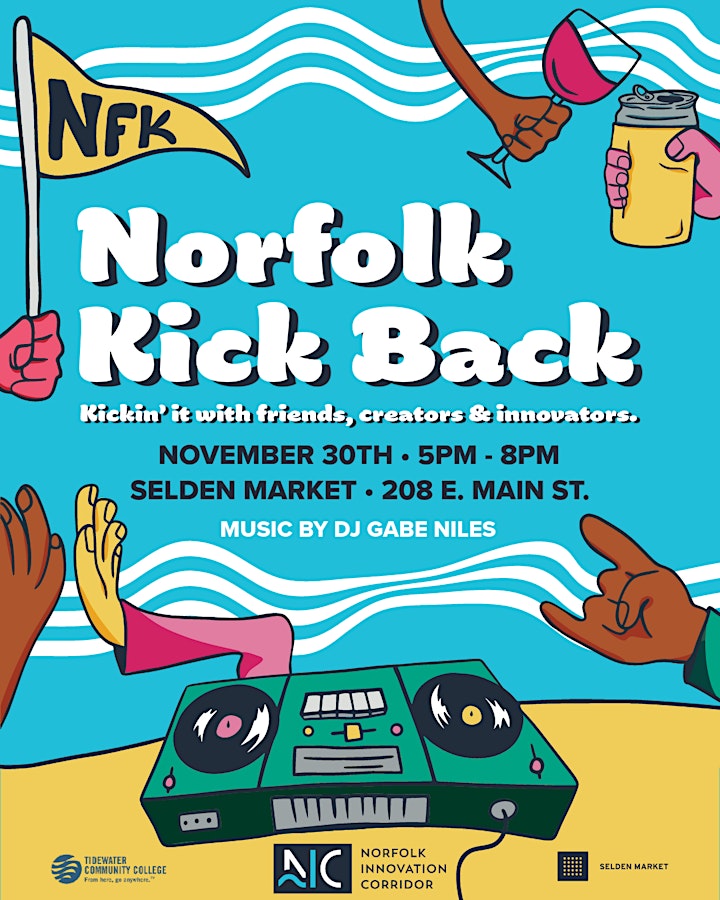 About the Norfolk Innovation Corridor
The Norfolk Innovation Corridor (NIC) is a designated technology zone dedicated to attracting and retaining technology companies while serving as a magnet for a talented and diverse workforce by fostering a culture and community that encourages and supports opportunities to bring together entrepreneurs and facilitates spontaneous collisions. The NIC is an area paralleling the Elizabeth River Trail that stretches from Norfolk State University to Old Dominion University, including the Eastern Virginia Medical School, Sentara, Children's Hospital of The King's Daughters, Fort Norfolk, Downtown Norfolk, the Neon Arts District and the Harbor Park area.